Hi! We are GGGPHOTO and together with a group of professionals we give the best service to our customers from initial contact developing a relationship of trust and friendship.
Our wedding photography style is a mixture of photojournalism, where we will record the events as they happen, sometimes you will not notice we are there.
This will result in a greater level of spontaneity and fun. And Editorial where posed pictures and great lighting will give you outstanding images, perfect to hang in a wall as a painting would be.
We are professional photographers and travelers. We are migratory souls in search of everlasting images. We enjoy what we do and therefore we care about every single detail, every light, every shadow and every expression. We do not live out of the photography we live together with it. Be part of our day by day.
My name is Georges, I am a wedding photographer based in Punta Cana, Dominican Republic. I record marriages from my special viewing angle. Sometimes that's standing in front of you, sometimes it's on the floor and sometimes is climbing on a tree, but always creating memories with passion. I'm a story-teller not a story-maker, telling the love stories in an artistically way.
Photography is much more than a job for me. The camera helps me meet amazing couples in the world, I love it…
Since I was a child, I always had a camera in my hands, always being the photographer of my group of friends and even in my family events, I was the treasure keeper, the one that capture awesome moments in time and save them forever. It was naturally for me to transform myself into a professional of the wedding industry thanks to the help of many amazing master photographers and companies that folded me and gave me a lot of knowledge.
I hope you can give me the opportunity to be part of your celebration by capturing the moments the you and you family someday will go back to and still be able to re-live the day through my pictures.
I hope we can start a great relationship like we did with many of our past clients/friends.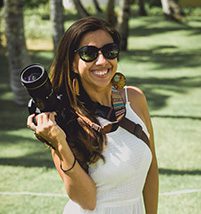 I'm Mili. Born and raised in Lima, Peru. I live in Punta Cana since 2010 and I am the community manager in GGGPHOTO, also sometimes I work beside Georges as a second photographer.
I'm a full time mom, social media manager, photographer, coffee lover and traveler… so I can define myself as a multitasking person. I'm behind GGGPHOTO answering your doubts, giving you some tips or recommendations, updating our social networks, thinking new ideas for our future clients…
Planning a Destination wedding is not an easy task, (believe me, we've been there !!!) here in Dominican Republic or anywhere, so I'm glad to assist you. As a past bride who got married here, I know very well how your planning could be so I'm happy to read your emails with tons of questions while I drink my coffee and set up a Skype to talk about your big day.
We call Dominican Republic our home, but we're destination photographers so we're always ready to pack our stuff and jump on a plane for an awesome wedding or any adventure. Travel + photography are our motivations… which are yours? Let's begin to know what are you expecting of your big day… we're all ears…
This is what we do for a living.
We hope that you have found what you were looking for on our website, we'll be honored to participate on one of the most important days of your life in the best way we know, photographing.
We want you to be 100% relaxed and well informed at the time of selecting your wedding photography service and we think it's very important to get in touch with you before your day by doing a pre-wedding shoot or a meeting via Skype. We want you to ask us all the questions you can imagine, guide you trough your day, picture in your head how things are going to happen and to hear what you have to say about your wedding plans, so we can get to know you a little better to be able to deliver the best service and pictures you can have.
Frequently Asked Questions